When it comes to selecting doors for your custom cabinetry, shaker style doors, according to Houzz, are the most popular choice among buyers in today's market. The five-piece, flat-panel design consists of four separate pieces on the perimeter of the door with a flat center panel. The simple design works well with nearly any kitchen – whether it be a traditional, contemporary, or modern, shaker style doors will look great.
With that in mind, we're going to take a look at some of our absolute best kitchens that utilize shaker style doors! In all, we'll be looking at four projects, each with its own charm and story.
The first kitchen that we'll be digging into is this white galley kitchen. Typically, when people hear the term galley kitchen, they cringe with the thought of clutter and a tight work space. However, neither of those things are true with this project, as the designers at Creation Cabinetry were sure to work with the homeowners to give them an abundance of storage and cooking space.
Additionally, the space is packed with everything you could possible want in a kitchen (i.e. granite, LED cabinet lighting, and stainless steel appliances). You'd be hard pressed to find a more functional galley kitchen.
Next up on our shaker style door adventure is this gorgeous walnut kitchen. Unlike the aforementioned galley kitchen, the homeowners had an abundance of space to work with, which allowed them to create a large, expansive kitchen. This project has it all, including an enormous island with seating for four and room for many more.
Furthermore, the kitchen is fitted with a coffee bar, a work station that wraps around the corner, and an exquisite display case on the other side of the room. And while this kitchen is on the exact opposite side of the spectrum in terms of design and layout, the shaker style doors still look fabulous.
The third kitchen that we'll be looking at in this week's blog resides in a dome home. The peculiar floor plan of the house called for a unique kitchen layout, a challenge that Creation Cabinetry was more than willing to tackle.
The white kitchen sports stainless steel appliances, a white farmhouse sink, under cabinet/toe kick LED lighting, and granite countertops. The shaker style doors and appliances are about the only things this kitchen has in common with the others.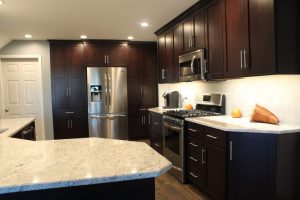 The last project with shaker style doors that we'll be looking at is this breathtakingly beautiful modern kitchen. Much like the second kitchen mentioned in this blog entry, the homeowners had the necessary room to create a spacious, open kitchen. There is a peninsula for food prep and eating, as well as a wall dedicated to pantry storage around the refrigerator.
And while this kitchen is in a completely different realm than all of the previously featured projects in terms of design, it still looks fantastic with the shaker style doors.
If you would like to gain more information on shaker style doors, or just custom cabinetry in general, feel free to give us a call at (610) 562-4700. You can also reach us via email at CreationCabs@verizon.net. Additionally, we can be found on the following social networks: Facebook, Houzz, Instagram, Pinterest, and Twitter.