When designing a kitchen, bathroom or specialty project for your home, it's important not to forget the minute details of the project. It's easy to get overwhelmed by the seemingly endless design choices at hand, as cabinetry style, door type, paint selection, and countertop material often overshadow the smaller aspects of the room.
The smaller aspects that I'm referring to are things such as hardware, hinges, and lighting. All three items are extremely important to the look and functionality of the room in question. That being said, we'll be using this blog entry to cover hardware that homeowners have to choose from when selecting the style that best fits their wants and needs.
Such a thing may seem minuscule to some, but, if you're the person that's purchasing the cabinetry, you'll definitely want to ensure that you've made a well-informed decision. We'll kick things off by looking at some popular choices from Amerock, a company that specializes in handles and knobs for cabinetry.
Bar Pulls
The bar pulls shown here are an incredibly popular choice among our customers, and rightfully so. The chrome handles put off an elegant, yet modern feel. This style looks best when paired with a flat slab drawer front, as the minimalistic nature of the two play off of one another really well.
It's a style that we've seen greatly increase in popularity over the last year or so. If you're having a kitchen or bathroom designed, and you want a sharp, clean look, these bar pulls may very well be the perfect solution.
BlackRock
The BlackRock series is available in a number of colors, as the handles and knobs associated with the style can be purchased in oil-rubbed bronze, gunmetal, black bronze, polished nickel and satin nickel. The wide variety of color options is what makes this particular style so versatile – it allows for designers to get more creative with their choices because they are not constrained to a single color with the style.
As a company that regularly builds and installs custom cabinetry, the oil-rubbed bronze is the color choice that most homeowners opt for when considering this style of handle/knob.
Candler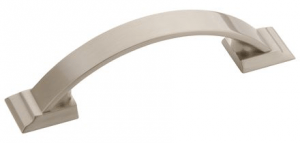 The Candler series, much like BlackRock, comes in a variety of colors and finishes. However, the pulls and knobs in this series look quite different, offering homeowners a curved, clean look. This hardware looks great with any type of door, but looks particularly good when combined with a shaker style door.
The rounded nature of the Candler hardware can easily ramp up the character of your kitchen or bathroom, as this option can truly make a dramatic difference in terms of design and style in the room that it resides in.
If you would like to learn more about any of the hardware mentioned in this blog entry, feel free to contact us via telephone at (610) 562-4700 or you can email us at CreationCabs@verizon.net. You can also visit the Amerock website to browse additional handles and knobs, and gather further information before deciding on a purchase.