Creation Cabinetry has designed, built, and installed countless kitchens over the years, all of which possess their own personality in one way or another. That being said, we believe that these projects should be celebrated, not forgotten, which is why we are starting the Kitchen of the Month series.
In this series of blogs, we will select and examine a different kitchen on a monthly basis. This will give our customers an opportunity to visualize our work and, possibly, even get an idea or two for a kitchen of their own.
The first kitchen that we'll be looking at in this series features a transitional design with granite countertops residing on the perimeter cabinetry and tons of storage options to boot. The style of the kitchen matches perfectly with the rest of the Tamaqua area residence, which only makes the project more astonishing.
Kitchen layout and colors created by Brownstone Design.
Kitchen Island
The island pictured above is certainly aesthetically pleasing, however, more importantly, it plays a crucial role in this kitchen's design and functionality. Not only does it serve as a great place to relax and converse at parties and gatherings, but it also fosters a Viking warming drawer, something that will undoubtedly please the owners. In addition to the look and warming drawer, the kitchen island also features large drawers and various storage solutions.
Atop of the island is a beautiful quartzite countertop, the white top has veins of gray coloring in it, something that helps bring the white cabinetry and dark granite countertops together with the dark colored island. Cohesiveness is incredibly important when designing a kitchen, as you don't want the island to look foreign to the rest of the room – this is something that our designer, as well as the home owner, achieved by taking this route.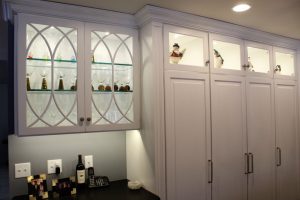 Kitchen layout and colors created by Brownstone Design.
Storage Solutions
In addition to the island and the wonderful storage that it offers, this transitional kitchen also features a number of large pantry cabinets with glass doors above them to display personal items to visitors. While the glass doors for display means is nice, it's the extra storage space that really makes this portion of the kitchen important.
The large pantry style cabinets allow the owners to stow away nearly anything, making storage for large mixers and pots & pans a cinch; that cannot be said in all kitchens. Next to the pantries is a cabinet that features glass doors, a design element that is great for homeowners that possess fine china or a large variety of drinking glasses.
Kitchen layout and colors created by Brownstone Design.
Lastly, we'll take a look at the kitchen as a whole. The white cabinetry looks exceptionally sharp surrounding the dark island, as the contrast between the two combine to deliver a look that will easily stand the test of time in terms of styles and trends.
If you want to take a deeper look into this fabulous kitchen, we have additional photos of the project on our Facebook and Houzz pages, simply click the links to navigate there. You can also navigate to the projects tab to take an extended look at this, or any other, kitchen.
If you have any questions about this project, feel free to reach out to us at creationcabs@verizon.net or by telephone at (610) 562-4700. You're always welcome to visit us at our showroom, too, which is located at 557 State Street in Hamburg, PA.