Creation Cabinetry partners and works with numerous companies to ensure that we are always on top of the game when it comes to new technologies in the cabinetry business. We believe that by staying current and up to date with the latest and greatest gadgets for cabinetry in kitchens and bathrooms, our customers will benefit by having a large variety of options at their disposal when it comes to planning their next home improvement project.
That being said, Rev-A-Shelf, a company that provides a great deal of storage solutions for kitchens, bathrooms, and any other sort of cabinetry, has various new offerings. This blog entry will essentially be used to detail one of the more useful products that Rev-A-Shelf now offers. In doing so, maybe you'll come across a product that you believe would improve your every day lifestyle – Creation Cabinetry would be happy to provide you with, and install, said product.
The items listed below are, in my opinion, incredibly useful. Millions of Americans consume coffee every day, meaning it's likely that millions of people are sick of digging through mounds of K-Cups to find the proper blend.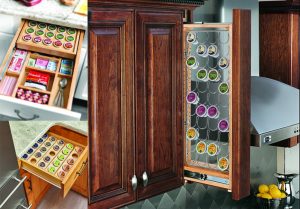 K-Cup Organizers
If you're like most people nowadays, you probably know the hassle of rooting through your cabinets or drawers in search of a particular brew of coffee. This relatively small irritant can get old after awhile, making the K-Cup series from Rev-A-Shelf a no-brainer for a lot of coffee aficionados.
As the photo above displays, there are a number of different offerings if you're in the market for K-Cup organizers. The company offers drawer inserts of two varieties, with one of the inserts being a two-tiered option – this design essentially turns one of your drawers into a one stop coffee shop, as it has the ability and space to adequately accommodate everything necessary for your morning coffee. This allows users to keep their K-Cups in the same area as things such as sugar, creamer, spoons, and stirrers while still being organized.
While the two-tiered option is great for people who like to spruce up their coffee, it may be an option that isn't for everybody. A lot of people prefer their coffee black and don't require a two-tiered option. If you're one of those people, you'll be delighted to know that Rev-A-Shelf also offers a one level insert.
The one level K-Cup organizer insert doesn't offer the same amount of storage as the two-tiered option, instead focusing on delivering a simple, straight forward option for home owners. If neither of those options fit your wants or needs, there is another option that may work for you.
The K-Cup Wall Filler, picture on the far right in the photo above, blends in flawlessly with the rest of your kitchen. The design allows for it to be installed at the end of a cabinet, similar to certain pull out spice racks. Having the ability to keep your K-Cups organized and hidden from vision is nice, as it's something that drastically cuts down on clutter.
If you want more information on the K-Cup series, feel free to call Creation Cabinetry at (610) 562-4700, or simply follow this link to the official Rev-A-Shelf website.