Creation Cabinetry specializes in designing and crafting custom cabinetry for Berks County, Schuylkill County, and the surrounding areas. We have over thirty years of experience building cabinets and similar products for kitchens, bathrooms, and specialties. Having said that, the remainder of this piece will be centered around specialty projects and the benefits that they bring to the customers that had them built.
1. Hamburger Photo Station
The first project that we'll be looking at is a colossal hamburger photo station that we crafted for the Our Town Foundation of Hamburg for the annual Taste of Hamburger Festival. We were approached with a general idea and, after collaborating with a number of our designers and builders on our staff, came up with the product shown here.
We crafted the hamburger out of plywood, painted the different toppings, and hinged the photo areas for easy accessibility. It was a huge success, as hundreds of people made it a point to get their photo taken at the display.
2. Floating Shelves with Distressed Desk
The second specialty project that will be discussed in this piece is a gray desk paired with a set of floating shelves. Upon entering the room, visitors are entranced with the awe-inspiring beauty of the seemingly free stranding shelves. And while the shelves steal the show in terms of presentation, the desk, which has a distressed finish, holds its own – it looks great, but, more importantly, offers the homeowners a great deal of storage.

3. Trophy Shelf
The custom shelving unit shown above is the third specialty project that we'll be looking at; it was built for a semi-professional golfer. He wanted a place to display his abundance of trophies, but, due to the slope of his ceiling, was having a hard time utilizing the space. However, with the help of our design and installation team, the customer now has a perfect spot to store all of his awards and winnings.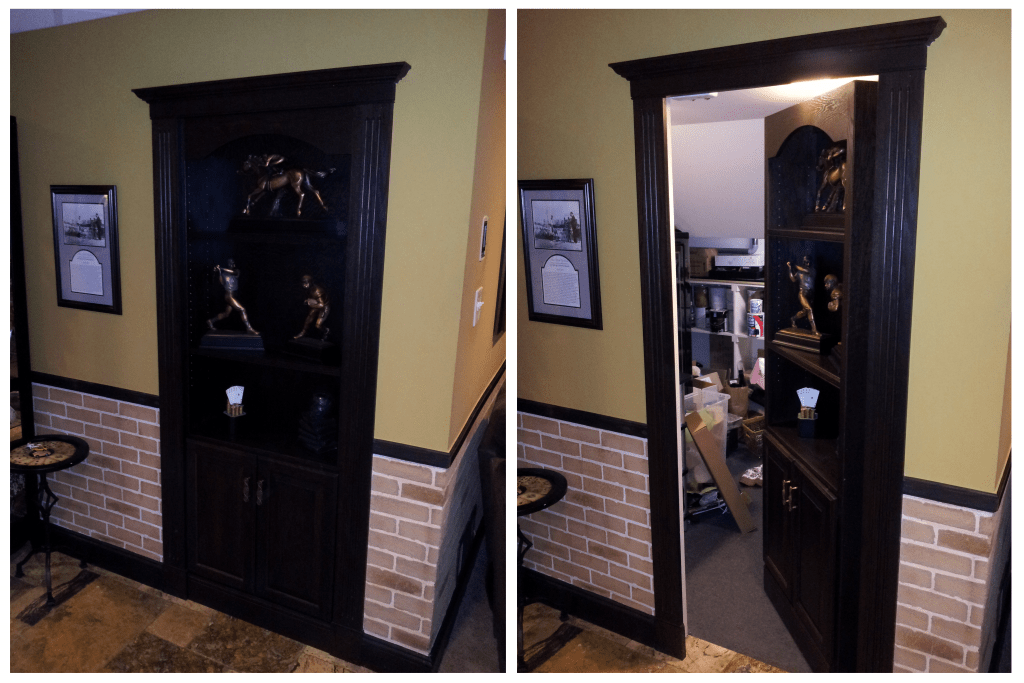 4. Hidden Room
When people think of security and storing their valuables, their minds often imagine a big, bulky safe. And while safes certainly get the job done, they're a bit boring. If you want to safely stow your belongings away, and you want to be a bit more creative in doing so, a hidden room is one option to consider.
It's not something that will work for everyone or every house, but it's an option to think about if you have the available space. The hidden room pictured here secretly resides behind a bookshelf. The unit is hinged, essentially making it into an extremely decorative door – a door that leads to a secret room.
If you have any questions about the specialty projects mentioned in this blog entry, feel free to reach out to us at creationcabs@verizon.net or by telephone at (610) 562-4700. You're always welcome to visit us at our showroom, too, which is located at 557 State Street in Hamburg, PA. We service Berks County, Bucks County, and Schuylkill County homes and businesses, as well as areas located in the surrounding counties in North Eastern Pennsylvania.