If you decide to go with Creation Cabinetry to design, craft, and install your new kitchen, you can rest assured that we'll work with you for the entirety of the project. We'll be happy to assist you in choosing the styles and colors of your cabinetry, as well as the countertop material you wish to have installed – whether you choose granite, quartz, marble, butcher block, or just the standard particle board and formica countertop, we'll find a way to turn your dream kitchen into a reality.
If you're having a hard time deciding on which style of countertop you want for your kitchen, then this blog entry is right up your alley. We'll be covering all of the countertop materials previously mentioned, so if you're in the market for a granite, quartz, marble, butcher block, or formica countertop, you're in luck.
Granite
Granite countertops are a widely popular choice, as the material is extremely durable. The natural stone, unlike quartz and marble, is incredibly resistant to heat, which allows homeowners to place hot pots and pans directly on the countertop without having to worry about the material being damaged – this fact alone will likely sway the cooking type to select granite as their primary countertop material.
While the strength of granite undoubtedly plays a large role in its popularity, the beauty and overall look of the material is another selling point. Granite is available in a variety of styles, meaning that there is likely a pattern that perfectly aligns with your taste and preference.
Quartz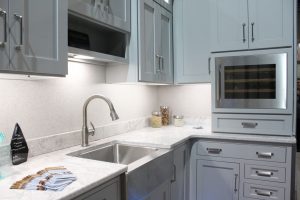 Much like granite, quartz countertops are available in a large variety of colors. Unlike granite, however, quartz isn't considered a natural countertop material because of the process in which it is created. Granite tops are cut out of large slabs, while quartz countertops are produced by mixing approximately 90% ground quartz (a natural mineral) and 10% resins, pigments, and polymers to create a man-made stone countertop.
The finished product supplies homeowners with a stylish, yet durable countertop for their kitchen. Some argue that quartz is the superior option because of the low maintenance that is associated with it. Granite countertops have to be periodically sealed to hold their worth, while quartz do not – the material is stain resistant and never needs to be sealed.
Marble
Marble countertops may not be quite as popular as they once were, but homeowners still utilize them from time to time. Being a natural stone countertop, the material shares a lot of similarities with granite. Having said that, marble isn't quite as durable as granite – the material is more susceptible to being scratched, cracked, or chipped.
In addition to the lack of durability, marble, like granite, can be stained quite easily if it isn't sealed on a regular basis.
Butcher Block
Butcher block, while not as durable as granite and quartz, is a popular option in its own right. With more and more people looking to achieve the rustic look in their home, the implementation of butcher block countertops is on the rise. That being said, the lack of durability – in comparison to granite and quartz – isn't necessarily a bad thing, as the blemishes lend a good bit of character to the room.
If you're interested in utilizing the material in your home, you can read our blog on butcher block upkeep.
Laminate
This is the style of countertop that is found in a majority of the homes across the country, as it's cheap and durable. The laminate, which comes in a large variety of colors and designs, is placed atop a piece of particle board. The laminate provides homeowners with a great deal of functionality and use, as it is strong enough to last many years.
It's certainly not as durable as granite or quartz, but it's also only a fraction of the price. It's a good option for landlords and people with children.
If you have any further questions regarding countertop options, feel free to contact Creation Cabinetry at (610) 562-4700 or reach out to us via email at CreationCabs@Verizon.net. You can also find us on Facebook if that's more your style.