The beauty of having custom cabinets is that you can have them designed to meet any of your storage needs. Here are some storage ideas that would be great in any kitchen especially if you have a smaller one and can use all the space you can get. Creation Cabinetry has been making custom cabinets for over 30 years and we have done many designs over the years that have helped our clients get the most space out of their kitchens.
Cutting Boards
Here is a great way to store your cutting boards where they can all stay together without taking up a lot of space. This can also be used for any flat kitchenware like baking sheets or cooling trays. This is great because instead of having a drawer that slides out this drawer tilts down so that the cutting boards stay upright and in place. This allows you to store more while keeping it organized and neat.
This is personally my favorite way of storing a cutting board. You pull the cutting board out like a drawer which can be pulled out over the trash can. There are plenty of ways to keep the cutting board clean while also making the clean up easier. I tend to be a messy cook and I cook with fruits and vegetables constantly. I am not a fan of using the cutting board on the counter because it makes a mess with peels, seeds, cores, and layers of onions everywhere. I love this idea where while you're cutting you're simply pushing the unwanted pieces right into the trash keeping lots of space on your counters to do other things. It also keeps you from having more cutting boards then you need which could free up space elsewhere.
Spice Racks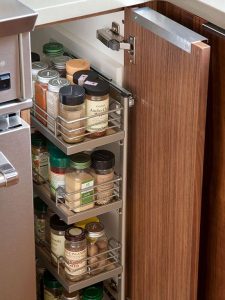 Let's admit it, we all have spices that we'll never use and while they take up space, we'll never throw them out just in case we need them. So why not customize our cabinets to fit them into a smaller space, keep them organized, and easy to find so that we can have our spice and eat it too.
Vertical Wall Storage
Did you know that you could use the walkway going into your kitchen for storage as well? Since they are most likely going to be thinner, this is a great place to store baking ingredients like your oils, flour, and other items that take up space in your pantry. This is creative and innovative way of making more space in your kitchen.
Hiding Kitchen Appliances
Having many kitchen appliances is great but having a lot of them on your counter creates clutter and makes your kitchen look smaller. If they are not on our counters, they are tucked away in the black hole of our houses…aka the basement or attic where they are most likely forgotten. These cabinets make it easy to store your appliances and keep them assessable without all the clutter.
Creation's Designs
Here are a few designs that we did here at Creation. These cabinets are currently here in our showroom. The top two pictures are a rack that comes down for those of you who are like me that can't reach things on the top shelf. The picture on the bottom left is used to store pans in a way that resembles a dish washer. It has prongs to separate the pots and lids to make storing easy and neat. My personal favorite is the picture on the bottom right hand side. It is much better than a lazy Susan because you can pull out the door and as you do, another set of shelves slide out from the back. This is an innovative way to use all the space in those corner cabinets.
If you would like more space in your cabinets and kitchen or storage ideas, reach out to us through our contact us page or call 610-562-4700. You can also contact or learn more about us through Facebook, Twitter, Instagram, Houzz, Pinterest, or LinkedIn.